Here's the Most Repetitive Feature:
PRIMEVAL: THE PRE TITLES DEATH BY DINOSAUR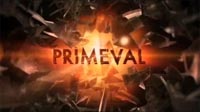 As much as I like Primeval, I couldn't help notice a familiar pattern emerging among series four and the first 3 episodes of series five: people kept being killed by dinosaurs before the opening credits rolled. Eight times out of ten, in fact, somebody was murdered during the pre credits sequence (the exceptions are episode one of series four and episode two of series five.) Check it out on YouTube because it is quite funny. Next time, Best Titles Sequence.